Why choose Beijing STELLE LASER best frozen fat melting machine
EMS is a magnetic slimming machine that only appeared on the market last year. Based on physical principles, the fat-slinging machine has no effect on losing weight. The best weight-loss machine is freezing fat melting.
Our super quality fat freezing machine intrenal organization, about our fat freezing machine,Each handle in our machine is a separate module. The two handles work independently and do not affect each other. Only our machine with Korea water filter filter, which can make the service life of the machine longer.
Guangzhou machine, all their handles have only one module, if one of them makes a mistake, the whole module can not be used, and their machine has not have Korea water filter, the cryodissolve fat machine needs to be used for air inhalation and exhaust, if there is no filter to filter impurities, the machine is especially easy to break down.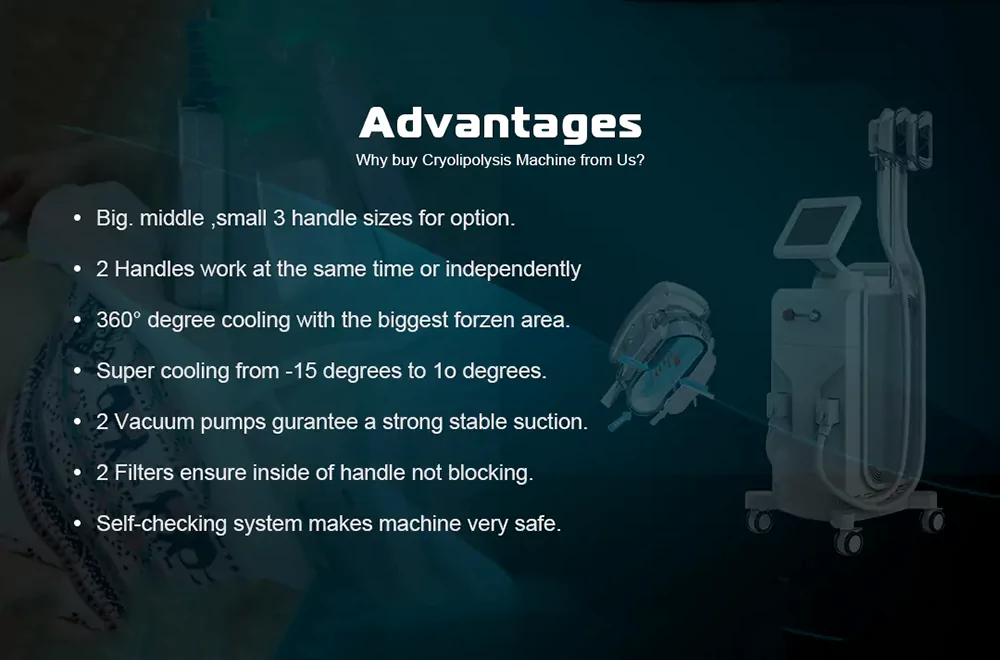 Beijing STELLE LASER Advantages of freezing negative pressure instrument
Appearance
Well-designed appearance makes it more high-end in the market. And it don't have to change water filters;
Handle design
Double handles design makes machine working in a more effective way. With 3 size optional;
Module design
2 independent water pumps and air pumps ensure 2 cryo handles work independently and with high working efficient. Besides, they can work with different parameters at the same time;
Low noise allows client enjoy the treatment in a pleasure environment;
Pressure
Pressure highest to -60Kpa. It leads to more effective treatment and can avoid unnecessary injury;
Cooling With strong cooling 10℃~-15℃.
Machine will keep detecting handle temperature. It will cut off power automatically when the temperature is out of control to avoid frostbite;
Self-inspection
Self-inspection makes machine very safe. The cooling system only start to work after confirm there are handles; and the water pumps only start to work after water level detector confirm there is enough water. The key parts of machine will be launched one by one, so that greatly prolonged machine lifespan.
Working Principle
The equipment adopts advanced cryolipolysis technology. Triglyceride of fat will be converted for the solid (crystalline) at low temperatures; Solid triglyceride aging in advance; Normal metabolism makes aging solid triglyceride go out body. customers get weight loss effect in the end.
This equipment's main functions are vacuum absorption and refrigeration weight loss function.
The meaning of cryolipolysis:
cryolipolysis: is based on the principle that the cells more vulnerable to energy extraction (cooling) than surrounding tissue.A non invasive applicator is attached to the targeted procedure area to extract energy from underlying fat tissue,while protecting the skin,nerves,muscles and other tissue.The cooled fat cells undergo apoptosis (controlled cell death) and are gradually eliminated, reducing the thickness of the fat layer.
Treatment period:6-8 weeks ,because It takes 6-8 weeks for fat cells to be metabolized
How often do I need to do the treatment?
More than one session may be needed to achieve a person's desired results. If more than one treatment sessions is needed, the next session can't be performed until 6 to 8 weeks after the first session. This is because it can take this long for damaged fat cells to be eliminated from the body;
Remarks:
Times of treatment course; 5-10times/every course,1-2times/every month.
Course time:40-60minutes after operating about 40minutes, suspend treatment, observe the change of skin, whether it reach to clinical end point, in order to confirm whether prolong the treatment time.
In order to protect skin, avoid burn,when treatment, need match with antifreeze membrane to use.
when treatment, above the antifreeze membrane, cover with a layer fresh-keeping film(close to the treatment head), on one hand, temperature difference between skin and treatment head generates condensate beads, result in freeze and burn; on the other hand, increase service life of equipment and avoid suction making product into equipment.
Avoid presenting bruise on the local part, when using, negative pressure doesn't too high. It can start high energy air pressure, after energy stability, adjust  energy a down gradually.
Avoid navel during operating, so as to avoid catching cold and diarrhea.
Customers belong to strong obesity adopt half-lying type. (There is cellulite for some clients, especially for some man. the fat is very hard to suck in with the handle of the machine .As for this kinds of clients, when do the treatment ,it is better for the clients to choose half-lying type.
While treatment, start blue LED light simultaneously. The effect of blue LED light: eliminate edema, increase skin metabolism.
Antifreeze membrane is for disposable, don't utilize repeatedly.
After 2 months when is the best treatment effect. Need match with other sculpture equipments.
STELLE LASER will be your best choice of frozen fat melting machine!