No hesitating, The best time to buy a beauty salon device!  What I say is the best time to buy beauty salon device, is because when you are still hesitating for various reasons, others have already begun to implement plans to purchase beauty salon devices, and factories have also begun to produce beauty salon devices. In 2 weeks, they have gone from nothing to just the idea of opening a beauty salon. It only takes 2 weeks to actually own a beauty salon device!
When you are still hesitating to buy a beauty salon device, you might as well take a look at this data.
This is real data after investigation. Assume that your newly opened beauty salon has only one beautician. She only needs to perform 3 treatments a day, and each treatment charges $50. Then the income after one month will be 50*3*30=4500USD. This is just a minimum requirement. Generally, a beauty salon must have at least two operators, each of whom can perform at least three treatments a day, and based on the charging standard of US$50 per session, the income after one month will be 50*3*30*2=9000USD. Take away the cost of rent and labor, and it is a business that is sure to make money without losing money.
When you are still hesitating, let us take a look at the expressions of those who have already purchased it. You will know it is the best time to buy beauty salon device!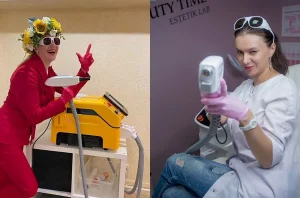 No matter which beauty salon device it is, as long as you start, you will be the bravest person!
According to our many years of sales experience, as long as the idea becomes a reality, you will be one step closer to your dream. We have received feedback from buyers in many different countries that investing in beauty equipment is a very good investment. Some people will continue to expand the number of beauty salons after trying business opportunities. We have a customer from New Zealand who has been expanding since the first beauty salon. Currently, there are more than 10 beauty salons, and he will Sell a few of the established beauty salons to invest in other businesses. This will let money make money! Don't hesitate, just buy it!
When you are choosing beauty equipment, be sure to choose a real factory! Professional factory!
And we are the most professional factory. We have 15 years of R&D experience. The current technology is stable, the after-sales rate is extremely low, there is almost no after-sales, and the service life is very long. One customer's machine has a service life of 8 years, and it is still You can continue to use it! Moreover, our beauty salon device has been certified by the US FDA and certified by TUV Medical CE. We all know that the authority of these two certificates is very high and cannot be doubted.
Below are some of our company's most popular products
Our staff is online 24 hours a day. Welcome to consult and answer all your questions professionally! The first row on display are all single-function machines, which are the first choice for newly opened beauty salons. IPL with a single handle in one machine can meet the needs of daily beauty salons, such as permanent hair removal, freckle removal, acne pit removal, acne mark removal, skin whitening, pore reduction, skin rejuvenation, etc. A single ND YAG handle on one machine can remove tattoos and pigmentation, and can also perform the most popular project on the market: CARBON PEELING (Hollywood PEEL) to achieve the purpose of whitening and rejuvenating the skin. A single-diode LASER handle on a machine can complete permanent hair removal. This is a favorite project for girls. It can be said that every girl needs to do this project. Currently, many men are also pursuing permanent hair removal projects.
The machines in the second row are all multi-functional machines, which are intended for use by operators who already have operating experience. Multiple functions are included in one machine, which is more professional, saves money, and saves space. It is an ideal choice for high-end beauty salons.  It is especially important to choose professional machines and professional factories. If you are choosing a machine, you may wish to contact us for a free consultation and free service!