China IPL SHR OPT ND Yag Laser 2 in 1 System
China IPL SHR opt nd yag laser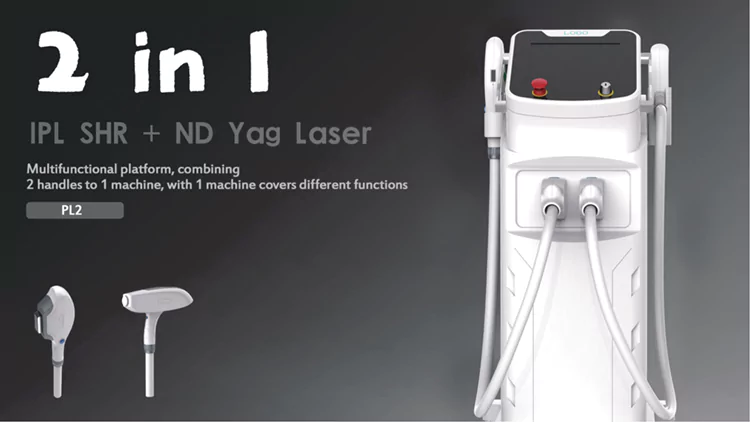 China IPL SHR OPT nd yag laser is a vertical, multi-functional machine that combines two operating handles with different functions into one machine. It is a modern combination that meets a variety of different functions and completes the pursuit of 1+1 >2. The combination of two operating handles with different functions. After merging, the function of each handle remains the same as the original. It will not reduce the function or the effect. It is completely 1+1 > 2.
In terms of cost, combining the two handles on one machine can save costs. Because the cost of two independent machines is higher than the cost of one machine, two independent machines will have two machine freight costs, while one machine will only incur one freight cost. So as a person with professional experience, I highly recommend multifunctional machines if you need these functions.
Real Show to you
This is a classic case that is fashionable, attractive, and durable. It will still be loved by the public until 2023. I personally also really like this case. By the way, color can change to your favorite color for free! This is the convenience of cooperating with the factory. It supports changing the color and adding your LOGO on the case. We can help you with all the small customization details. , when you receive the machine, it's like receiving a surprise gift.
About the IPL handle, you want to know!

IPL handle has 5 filters, you can replace different filters according to your needs to meet different needs.
480nm: Acne Treatment
530nm: Vascular Treatment
590nm: Pigment Treatment
640nm: Fair Skin Depilation
690nm: Dark Skin Depilation

UK xenon lamp is inside of IPL handle, not other brands of xenon lamps. Because the xenon lamp is a very important accessory, we refuse to use inferior accessories that will affect our final lifespan.

Korean water filter in our China IPL SHR opt nd yag laser, is not available from other manufacturers. Only we have a water filter in the IPL+ND YAG 2in1 machine. The purpose is to filter visible and invisible impurities in the water, so our water circulation is better and the xenon lamp is better Maintained, so the real life of our IPL handle is more than 1 million shots, and it can continue to serve you! Lifespan is 5 times longer than other manufacturers.
About the ND YAG laser handle, you want to know!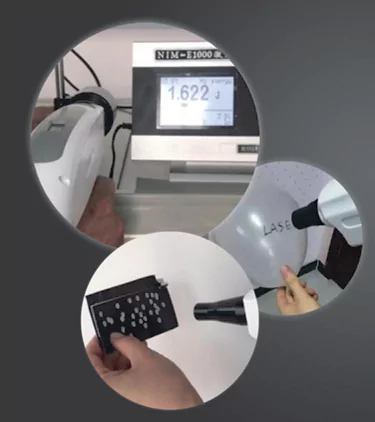 ND YAG laser handle is 3 tips: 532nm,1064nm, and 1320nm
532nm tip: Color Tattoo Removal
1064nm tip: Dark Tattoo Removal and nail Fungus
1320nm tip: Carbon Peeling

1622J, after testing, the peak energy of our ND YAG handle can reach 1622J, due to the DAZHI power supply we use, Yellow rod (not pink rod, pink rod energy is weaker than yellow rod)

It only absorbs pigment and does not affect normal skin color, so it will not blister or leave scars.
China IPL SHR OPT nd yag laser TECHNOLOGY:
Specification
IPL SHR OPT
Nd Yag
Power supply
2000W
500W
Energy/max
1-50J/cm2
1000mJ
Wavelength
480/530/590/640/690
532/1064/1320nm
Spot size
12*30mm/12*50mm
6mm
Pulse duration
1-15ms
10ns-20ns
Pulse interval
/
/
Frequency
1-10Hz
Cooling Level
1-5 level
Cooling System
Air + Water + Wind + TEC + Sapphire sking contact cooling
Operation
12"/16" TFT True Color Touch Screen
Electrical input
90-130V, 50/60HZ or 200-260V, 50HZ
China IPL SHR OPT ND Yag Laser 2 in 1 System