Diode Laser Hair Removal Machine for All Skin Types
Diode laser hair removal machine
Diode laser hair removal machine
This Diode laser machine is the fourth generation upgrade.
After decades of continuous development, technology has improved step by step. Let's enjoy the technological progress of the fourth-generation diode laser. It has an ergonomic design and the handle end is very light. There is no problem in long-term use and you will not feel tired.
A small display screen that can be operated is added to the handle, which is very friendly to girls who like technology.
The operation is also very simple, and you can basically learn it as soon as you learn it because it is an intelligent operation. When you use the big head, the parameters of the big head will be automatically given on the interface. When you use the small treatment head, the handle will automatically recognize that it is a small head and give the corresponding parameters.
2in1 spot size
This handle can be used for hair removal all over the body. The large size is 15*15mm. It has an additional small-sized treatment head, which can meet the permanent hair removal of the nose and ears.
√ 2in1 spot sizes: big spot size is 15*15mm, small nose tips is φ8mm
√ smart recognition: Humanized design, whichever treatment head is used, the parameters of which treatment head will appear, more humanized service
√ 360° No.1 Cooling: There will be no partial cooling or partial non-cooling. There is cooling in every inch, which is more uniform and increases the overall comfort of customers.
√ Real-Time Monitory: Real-time temperature can be displayed on the display, making it easier for the operator to adjust the cooling level
√ Mixed wavelength (755+808+1064nm): The three-band diode laser machine is more suitable for hair removal of different skin colors and will not be affected by skin color. All can be permanently hair removed within 3 to 5 courses of treatment.
Why it can Real-Time Monitory?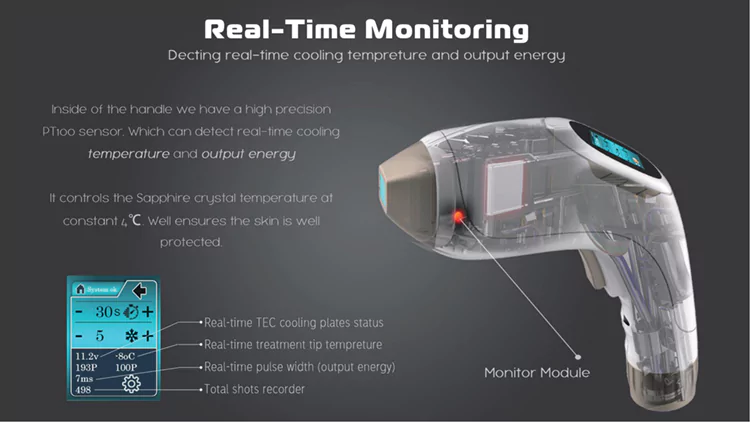 Inside the handle of the fourth-generation diode laser hair removal machine, an additional monitoring module is added. The temperature of the treatment head of the handle will be displayed on the display of the handle in real-time. This is a new technology and a revolutionary development. Achieved modern development.
Real-time temperature updates are beneficial to the operator. For example, when your customers come to your beauty salon for treatment, and on the way, you suddenly find that the temperature drops to sub-zero levels, then the customer will feel warm, not ice. , the experience is not that good. At this time, you can actively increase the cooling level to 5, (the highest cooling level of the machine). After a few minutes, your client will obviously feel very cold, like ice cubes, truly experiencing the joy of freezing point hair removal.
diode laser hair removal machine technology
| | |
| --- | --- |
| Lifespan | 20 million shots |
| Power | 600W for laser, 2000W for machine |
| Spot Size | 15*15mm & φ8mm |
| Wavelength | 808nm / 755 808 1064nm |
| Energy Density | 1-166J/cm2 |
| Pulse Frequency | 1-10Hz |
| Pulse Duration | 30-300ms |
| Laser bar | 100% pure AuSn bars from US Coherent /German Dilas |
| Cooling Level | Sapphire Crystal + Air + Water Circulation + Semiconductor +TEC |
| Display | 12INCH/16INCHTrue Color LED touchable Screen |
| Stand-by Working | Continuous stand-by working for 10-12hours |
| Electrical | 100/110V, 50~60Hz, /230V~260V,50~60Hz |
| Gross Weight | 62KG |
| Packing Dimension | 66*59*110cm (W*D*H) |
Our factory mainly produces Diode lasers, and currently, we have started to research the seventh diode laser hair removal machine. After decades of development, the Diode laser hair removal machine has become more and more rich in features and smarter. If you are now looking for products for your beauty salon, then you can contact us for details on seven different diode laser hair removal machines!
Diode Laser Hair Removal Machine for All Skin Types