Professional SHR Laser Hair Removal Device Salon Use
SHR laser hair removal
IPL machines are the best choice for beginners because they are cheap and have many functions. If you are a new beauty salon, I suggest you choose an IPL machine and upgrade your products after you have accumulated a certain customer base. It is more convenient to give back to your old customers and attract new customers. Upgrading of the overall equipment is needed.
IPL covers a lot of functions

480nm: Acne Treatment

530nm: Vascular Treatment

590nm: Pigment Treatment

640nm: Fair Skin Depilation

690nm: Dark Skin Depilation
So when you don't have enough budget but need many functions, IPL is your first choice. Open the store first, take action more than your heart, take action, and you will encounter an amazing life.
IPL machine pictures
• SHR laser hair removal is vertical, and its pure white color makes it more elegant and pure, like a white swan.
• The design of the machine is in line with most people's aesthetics, and this case has sold a lot of sales.
• The screen is also adjustable, not a fixed style, and can be used by beauticians with different operating habits.
SHR laser hair removal Technical specifications
| | |
| --- | --- |
| Lifespan | IPL |
| Lifespan | 1 million shots |
| Power | 2000W |
| Spot Size | 15*50mm or 12*30mm |
| Wavelength | 480/530/590/640/690-1200nm |
| Energy Density | 1-50J/cm2 |
| Pulse Frequency | 1-6Hz in Elight mode, 1-10Hz in SHR mode |
| Pulse Duration | 1-10ms |
| Pulse Delay | 1000-3000ms |
| Lamp | UK Xenon lamp |
| Display | 12inch /16inch True Color LCD touchable Screen |
| Stand-by Working | Continuous stand-by working for 10-12hours |
| Electrical | 100/110V, 50~60Hz, /230V~260V,50~60Hz |
| Gross Weight | 57KG |
| Packing Dimension | 63*67*108cm (W*D*H) |
1 million shots, 80000 shots warranty
SHR laser hair removal has a Korean water filter added inside, which is not found in other companies' IPL machines. The working principle of the filter is to filter impurities in the water, including impurities visible to the naked eye and impurities invisible to the human eye, so that it can survive in the long-term water circulation. Cycles quickly and won't clog. (In case of blockage, the UK xenon lamp cannot be used normally because the water inlet and outlet on both sides of the UK xenon lamp are very small)
The filter plays an important role in the SHR laser hair removal machine. It allows our lifespan to reach 1 million shots.
SHR laser hair removal package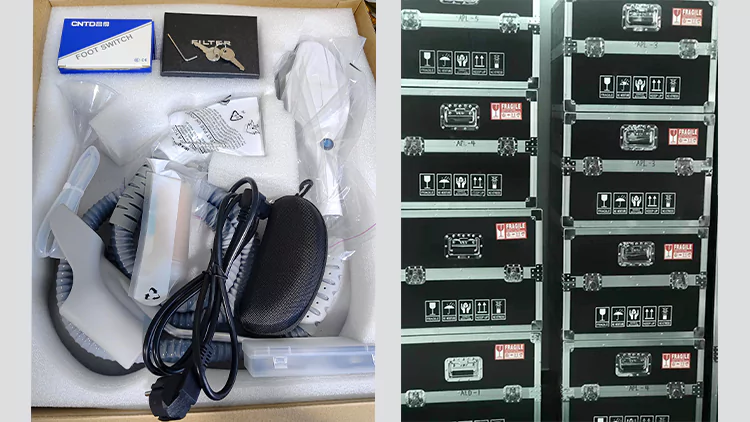 This is the packaging photo we usually send to our buyer when shipping. Sometimes customers not only buy machines but also add some accessories, such as adding an extra pair of filters or additional operator goggles, so package photos and customer confirmation are required. We are a very professional factory with a very professional team.
The machine is packaged in an air box plus foam cotton. The machine will not be damaged during long-term or violent transportation. When you receive the machine, you will find that the machine is flawless.
Professional SHR Laser Hair Removal Device Salon Use